A Simulator that Anticipates the Direction of a Blaze (and Other Wildfire-fighting Technologies)

Tools such as artificial intelligence, big data, IoT, or drones help firefighters against one of the greatest environmental disasters.
Last summer, the fires in California and Australia made headlines because of the incredible devastation caused. More than 30,000 square kilometers were burned in the American state alone—something like a third of Portugal. The severe environmental, human, and economic consequences have underscored the need to advance in the use of new and more efficient technologies—both for preventing and tackling them, and protecting the lives of those involved in the fight. As in almost all technology fields, artificial intelligence is playing a very important role, but it is also accompanied by other resources such as IOT, satellites, or drones.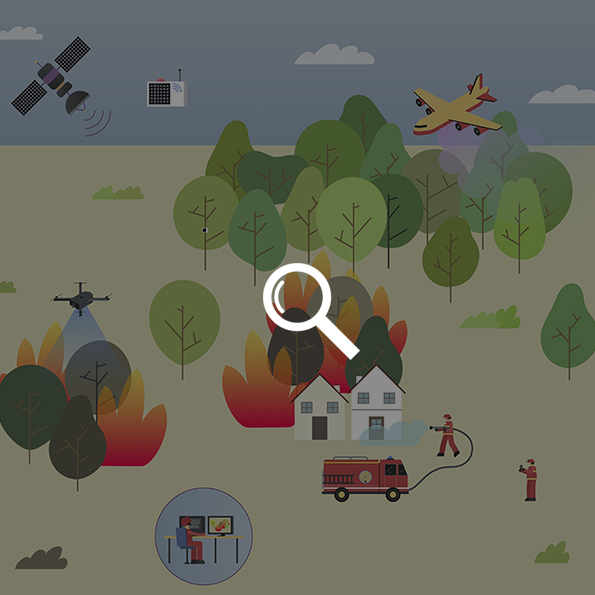 WIFIRE, a simulator of genuine disasters 
The behavior of fire is almost as complicated as that of meteorology. Factors such as forest density, wind direction, wood type, humidity level, or slopes can radically change its behavior. Thus, the possibility of anticipating changes in the direction and intensity of a wildfire was the driving force behind developing WIFIRE. It is a simulator developed by the University of Maryland and several technology partners that allows predicting the course of the flames and calculating the results of different scenarios in real-time. The open-source software uses various data sources, from satellites to weather stations.
IoT, sensors deep in the forest
The combination of renewable energies and sensors allows installing device networks where there is no power line. For example, photovoltaic panels have been used for this purpose for years. However, there is also a new generation of sensors that are powered by the triboelectric effect. That is, taking advantage of the static electricity generated by movement. In this case, it would be the branches swayed by the wind. 
If we also add IoT technology so that these sensors can communicate with each other and with the control centers, we can have a potent tool in the forest's heart. One example is IoT sensors, which fulfill two fundamental functions: detecting fires and warning of high-risk situations (extreme dryness, high temperatures, etc.).
Satellites, an eye in the sky
The appearance of high definition satellites with a high refresh rate and the possibility of offering a multispectral image, which includes an infrared band, enables the detection of forest fires anywhere in the world. In fact, in California's recent wildfires, satellites detected fire outbreaks before watchtowers and other methods. These satellites also allow the creation of a map of forest fires on a global scale so that researchers can understand their evolution in the areas most affected by climate change. You can check the various fires that have occurred this year in the world thanks to this viewer courtesy of NASA.
Artificial Intelligence, a great ally against wildfires   
Of course, all these data sources, together with others, such as drones with thermal cameras, are a great challenge for analysis. How do you distinguish a fire focus among thousands of square kilometers worth of satellite images? The key lies in the algorithms, which are capable of interpreting these images. Furthermore, they can also process data from weather stations and IoT sensors. Thus, it is possible to establish risk patterns and prevent fires before it is too late.
However, all this plethora of technologies will be rendered useless without individual responsibility in forests' care.
Source: WIFIRE, NASA, El País, Science Mag
Featured topics
Read the most discussed articles