This Pine Cone has Inspired an Energy-Saving Technology

In the never-ending quest to minimize energy consumption, smart buildings have found an unexpected ally-pinecones and their structural peculiarities.
When it comes to energy, Nature has yet to be challenged with any human technologies that can improve its efficiency. After all, a single misstep handling energy resources can be a matter of life or death for a predator or its prey. And, taking into account that nature enjoys a 4 billion-year head start, it is entirely understandable that natural ecosystems have become a source of inspiration to improve our management of energy. One of the latest examples of this trend would be the behavior of pine and fir cones.
Let's start with the problem: buildings need to absorb and diffuse heat. In order to do so, they use a range of systems, such as motorized blinds. Unfortunately, such devices have their own electricity consumption. What if we made use of some kind of mechanism that didn't require any power at all to function? Enter Cordt Zollfrank, a chemist, forest scientist and materials researcher at the Technical University of Munich (TUM) who came up with the idea of using a vegetal structure that moves without the need of any energy input.
Everyone's acquainted with the different shapes that pine and fir cones adopt, opening and closing in response to moisture. The cell walls of the cones are composed of lignin and cellulose; the former doesn't swell much, while the latter is quite prone to swelling up. Hence, when the atmosphere's damp, the cone scales curve inwards; when it's dry, they curve outwards. Thus, the seeds are only released when the weather is warm and dry.
This peculiar behavior of the conifer cones can be replicated at home with an experiment proposed by the Scientific American journal, which allows teaching the kids at home some of Nature's principles.
Inspired by this autonomous movement, Zollfrank and his team are developing systems able to react to atmospheric humidity. Based on cellulose, and not requiring any other materials, they are fully sustainable and renewable. The research, published in the Advanced Materials journal, explores a potential arena with a canopy that could react to rain or sunlight. Currently, however, they are facing one major hurdle: the larger the cell or tissue, the longer it takes for water to penetrate its pores toward the inside. This means that a large-scale building would need several years to react to a stormy day. Fortunately, nanotechnology has come to the rescue. Zollfrank and his team believe that the use of microscopic individual cells could react swiftly enough to make it a feasible technology.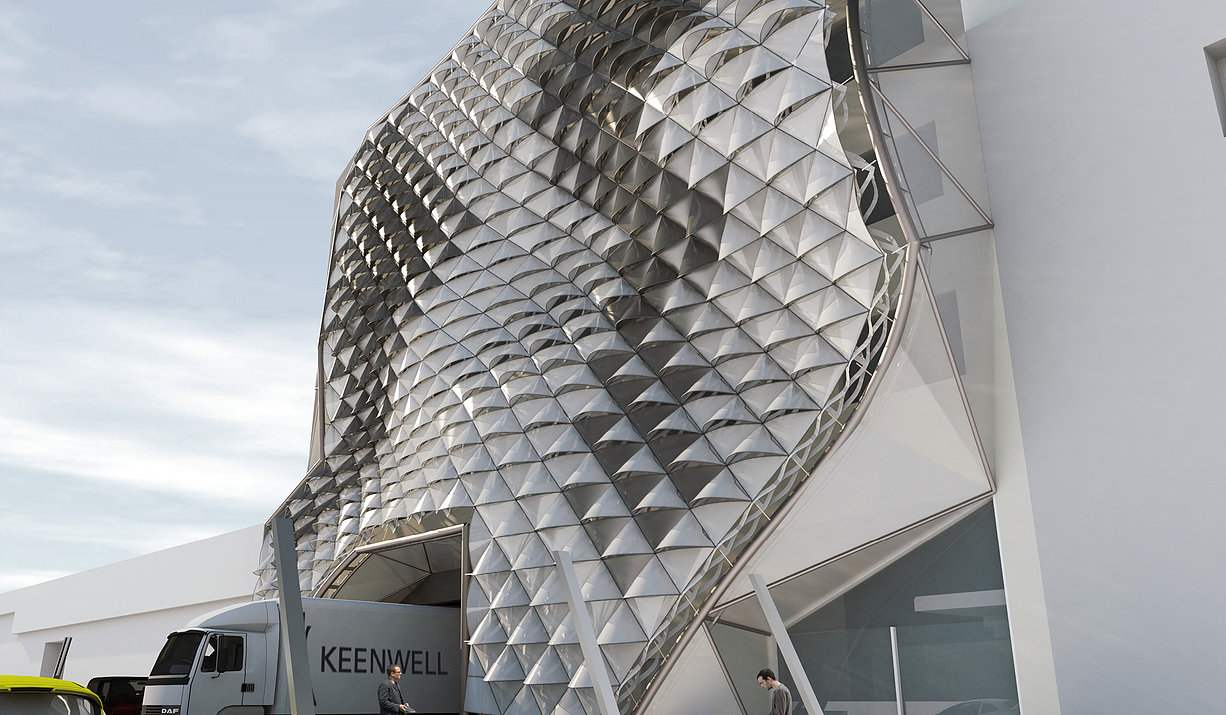 Hypermembrane, a second skin for buildings
Modern architecture is striving to take buildings beyond passive structures and turn them into reactive systems able to adapt to changing weather conditions. One of the examples of this reactive architecture would be the Hypermembrane technology, a project launched by Spanish architects and backed by the European Union. It has been designed as a structure that can cover façades and roofs, adapting to the requirements of the building. Its free-form elements mean that it can be used on any kind of surface regardless of its complexity. The technology also allows creating cost-competitive independent temporary structures.     
Hypermembrane has a physical and digital side. On one hand, it uses physical elements that are assembled on demand. On the other hand, it uses a special software to calculate the optimal structure regarding the incidence of light, ventilation, elasticity, and resistance to stress. Currently, Hypermembrane's structures are just static, but the long-term goal is to develop mobile structures that can adapt to weather conditions just like the conifer cones earlier mentioned.
Fuente: Popular Science
Featured topics
Read the most discussed articles