Oncoming Vehicle! The Technology that Warns Pedestrians on their Phones

A new CCTV-based technology will alert pedestrians to potentially dangerous situations in urban environments.
Every disruptive technology brings along its own behaviors, and misbehaviors. In fact, mobile phone usage already has its own syndrome, the so-called smartphone zombies. Surely, you have seen them roaming the streets unaware of their surroundings, ignoring traffic lights or even driving their cars while checking their latest social media updates. Maybe it was you who almost bumped into a lamppost while answering a message. In the end, as much as technology evolves, we still have just two eyes and limited concentration. However, the same devices that have become a ubiquitous distraction could prove to be the remedy for those daily hazards. That is what the technological researchers at Purdue University in Indiana (USA) have been exploring. Their idea is to leverage the urban CCTV systems to alert pedestrians in addition to collecting video streams. A step closer to the smart city.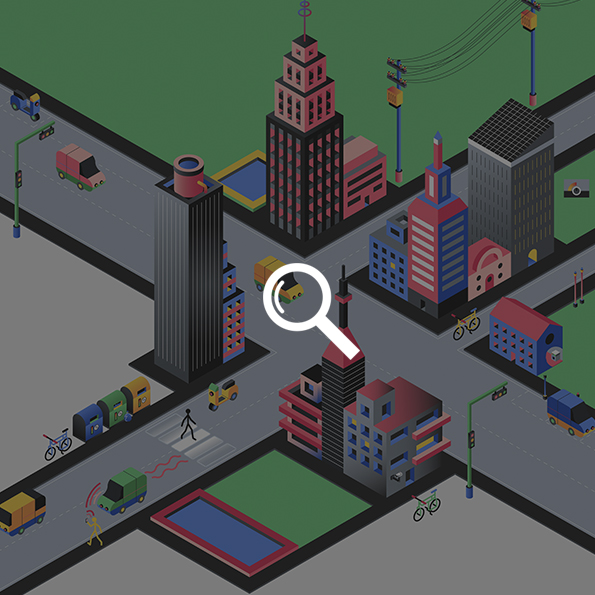 Smartphones had so far connected to networks by using IP and MAC addresses, which are their digital fingerprint. In fact, the ever-increasing number of smartphones and computers has led to renewed versions of the IP protocols to host those new devices. However, if a specific notification needs to be sent to a random pedestrian in the street, there is no way to pinpoint their phone's IP. A new way of communicating with those phones that bypasses the need of IPs had to be devised. In order to do so, the researchers created a private human addressing protocol (PHADE). Hence, when an individual enters the sight of a CCTV camera, it generates a unique address based on their location and motion patterns. Following that, information packages are relayed to the area. The recipient, with a PHADE-enabled pone, generates a corresponding footprint so the notification pops up whenever there's a match. This notification can warn of an oncoming car, a red traffic light or even any criminal behavior in the surroundings, as seen in one of our articles on AI applied to crime prevention.
From the streets to the museum… and the supermarket
The initial tests of this technological innovation, however, were not carried out in the streets but in a replica of a museum with several visitors. The cameras were able to assess if one of them was viewing a work of art and send them information about it. The experiment had a 90% success rate in a range of situations. Of course, the applications of the PHADE technology go well beyond urban safety or museum visits. The researchers point out it could be used in supermarkets too, providing information on promotions or special discounts according to the buyer's whereabouts.
Source:  Purdue University
Featured topics
Read the most discussed articles