The Air in Your Home is More Polluted than You Know (and These Plants Could Help You Solve it)

Genetic engineering has delivered a new generation of plants able to absorb pollutants found in homes.
You arrive home after a long day at work. The smoke of traffic jams and the grey cloud hanging over the city are now far behind. Finally, you can breathe freely again. Or that is, at least, a common assumption, that the air in our homes is less polluted than outdoors. However, plenty of studies would beg to differ. While we recently addressed the smartphone zombie syndrome, there is also another one affecting the air in our homes, the Toxic Home Syndrome. In fact, the statistics show that the amount of some pollutants is between two and five times higher at home than outdoors. There are many culprits for such situation: construction or insulation materials with chemical compounds, combustion of gas or fuel and mite infestations are some of them. Allergies, asthma and even lung diseases are some of the consequences. There are, of course, air filters already available, but the researchers at the University of Washington have devised an innovative solution that, besides being more efficient, will give a green touch to your home: genetically modified plants that purify the air at home.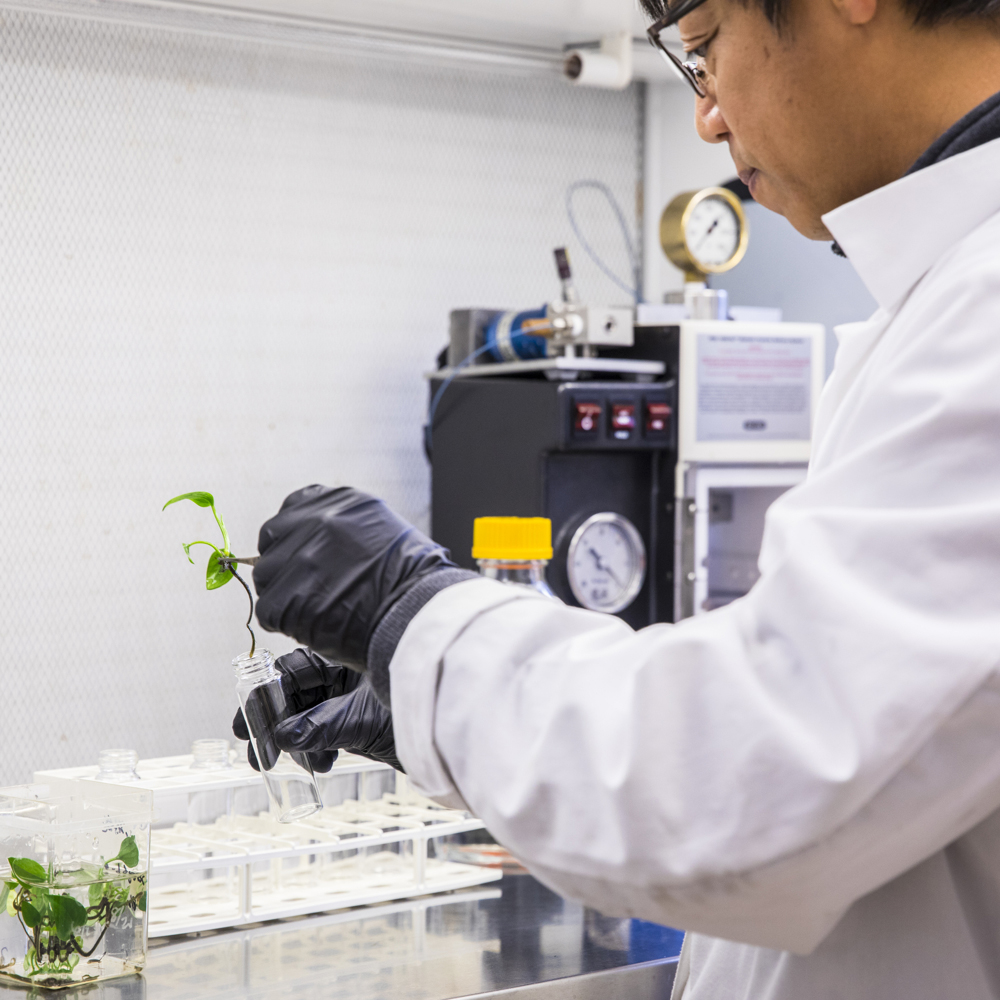 One of the main problems with current air filters is their inability to remove hazardous microparticles such as chloroform or benzene, present in chlorinated water and fuel used in heating systems respectively. In order to address these hazardous compounds, the research team has set their eyes on a common houseplant: the humble pothos ivy (Epipremnum aureum). The strategy of this technological innovation was to introduce a genetic modification so the test plants would express the 2E1 protein to transform these pollutants into nutrients and compounds beneficial for their growth. This protein is present in all mammals and its main business is to decompose alcohols for their metabolization.
Green livers
The 2E1 protein turns the benzene into phenol and chloroform into carbon dioxide and chloride ions. The scientists thus call these plants "green livers". The technological research process has taken two years to complete, but the results are certainly encouraging: an 82% reduction of chloroform in three days, almost undetectable by day six, and a 75% reduction of benzene following eight days. One of the keys to optimizing the process is the existence of an air flow that carries the pollutants over to the plants. The next goal of this technological project is to add a protein that can remove formaldehyde, another usual pollutant.  
Of course, the plants do not require any external power source to clean the air, so this technique is as green as it gets.
Source:  University of Washington
Featured topics
Read the most discussed articles