What Will the Smart City of the Future Look Like? Japan Has Already Designed the Blueprint

Renewable energy, electric mobility, self-driving vehicles, and pedestrian-friendly routes are some of the project's features.
Smart cities are a concept on everyone's lips. However, in most cases, the transformation will be incremental, with minor changes towards a new concept of urbanism. But what if there was the possibility of building a city from scratch, untethered to current technologies? That is the idea of a new Japanese project that will make a clean sweep and bring together the most significant innovations in this field. At the foot of snow-capped Mount Fuji, a group of 360 inhabitants, including inventors, senior citizens, and young families, will test its functionalities. In the long term, it will house some 2,000 inhabitants. Named as the Toyota Woven City, it will cover ninety acres and will become a reality by the middle of this decade.
Smart homes powered by renewable energy
One of the pillars of this ambitious project designed by the architectural firm BIG will be completely renewable energies such as photovoltaic or hydrogen cells. Thus, the houses will integrate photovoltaic panels on their roofs. Also, the structures of the buildings will be built with recyclable materials such as wood, with a reduced carbon footprint. Speaking of the buildings, all of them will be equipped with the latest technologies in home automation and artificial intelligence. They will also have sensors to monitor residents' health and take care of their basic needs, such as an empty refrigerator or room temperature. However cozy their homes may be, the Toyota Woven City is envisioned as a place that encourages sociability and collective use areas.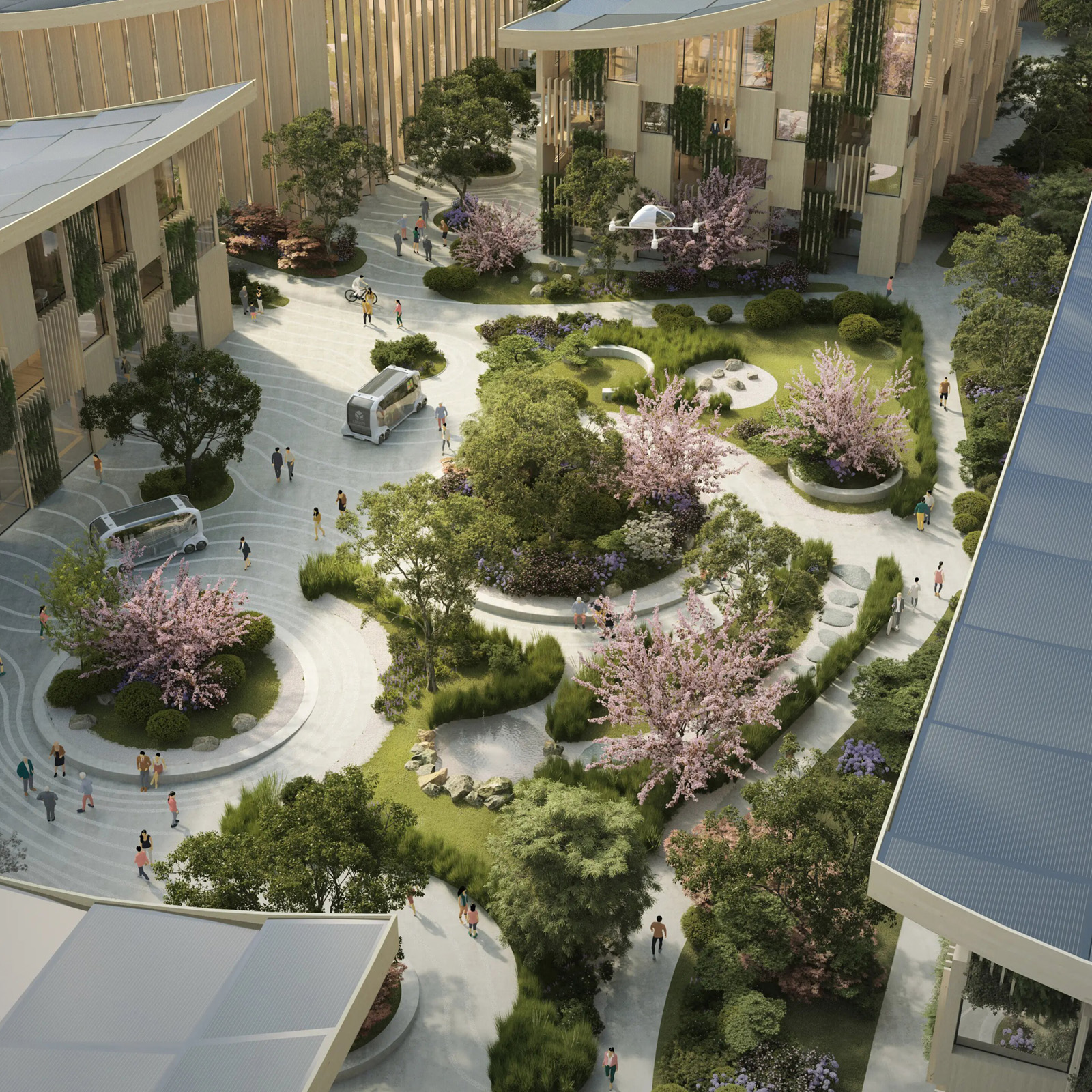 New urban mobility, the crucial factor
What distinguishes a city from a simple residential development is its approach to mobility. In this sense, the city of the future will be at the service of pedestrians. In the case of this smart city, it will be based on three different types of lanes. The first, with green areas, will be for pedestrians who want to move or walk around the area. Next, there will be another lane for residents who wish to use electric mobility devices such as bicycles, scooters, or scooters. These types of vehicles are beginning to form part of the regular landscape of our cities, with initiatives such as those of ACCIONA, and everything suggests that their role in personal transport will only increase. Thirdly, a type of track will be created for the exclusive use of self-driving vehicles. This will be used for both transport vehicles and delivery of goods. In this case, the e-Palette model, a microbus developed by Toyota, will be used.
Another strategy will be to build tunnels for heavy vehicles and bulky goods transport to minimize the inconvenience caused by traffic. The promoters of this project have described this set of roads as an "organic network." The ultimate goal is to eradicate urban pollution while also preventing traffic jams by offering a wide range of options to residents. The focus will also be on large green areas, although vegetation will be present in almost every part of the city.
The Toyota Woven City is part of a series of smart city initiatives beginning to take shape in Japan. A new city with this profile, the Fujisawa Sustainable Smart Town, designed by another Japanese company, is also expected to be inaugurated by 2022. The common denominator of all of them will be an anthropocentric and sustainable design, far from the cities of the 20th century, which enthroned asphalt and cars with combustion engines.  
Source: Business Insider, Toyota Woven City
Featured topics
Read the most discussed articles