Robots to Grow a New Skin to Touch the World

The sense of touch was, up till now, one of the trickiest technologies to develop within robotics. Now, a new prototype provides robots, and human prosthetics, with an advanced membrane that opens up endless possibilities.
The skin is our largest organ, a veritable map of sensations, emotions and perceptions. It is, in a nutshell, our frontier and point of contact with the world. Perhaps that's the reason it feels uncanny or perplexing to think about robots as entities endowed with a skin. The image of Arnold Schwarzenegger with his organic skin covering a metal endoskeleton is deeply ingrained in our collective psyche as a product of science fiction. However, the latest advances made in robotics are driving us in that direction. Of course, we're not talking about living tissue akin to Arnie's skin in his role as the Terminator: the new technology is not designed to allow robots to blend in anonymously with the population. Indeed, more usefully, and perhaps less worryingly, the technology will provide them with a sense of touch.
Sometimes, the biggest challenges for robotics are the seemingly smallest things. For instance, a robot climbing a flight of stairs. Along the same lines, there are many robots able to lift heavy payloads but only a few can handle an egg without messing things up. Assessing the surface of an object, its frailty or flexibility, and detecting when it's slipping, are basic requirements for us to handle the objects around us safely. This is the main purpose of the prototype jointly developed by the University of Washington and UCLA, as reported in the Sensors and Actuators A: Physical science magazine. The biggest advantage of this technology is that it can be stretched over any part of a robot's body. It can even be used on human prosthetics.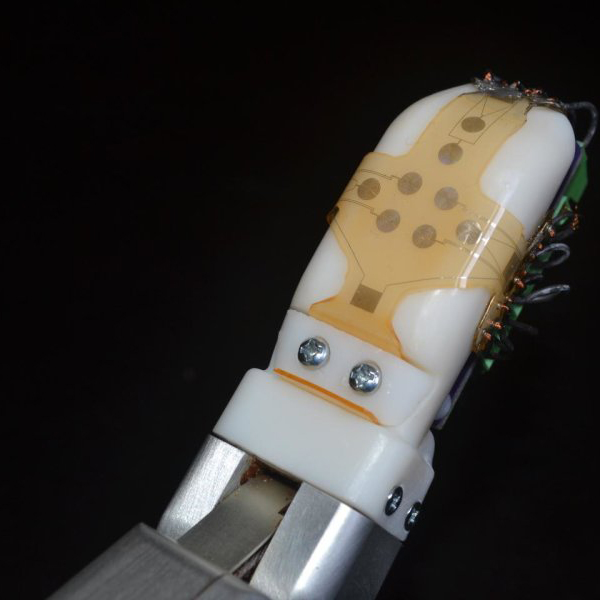 A technology that brings together all the nuances of touch
Inspired by its human equivalent, this synthetic skin can measure the pressure applied on an object, as well as any variations in its texture. "Traditionally, tactile sensor designs have focused on sensing individual modalities: normal forces, shear forces or vibration exclusively. However, dexterous manipulation is a dynamic process that requires a multimodal approach. The fact that our latest skin prototype incorporates all three modalities creates many new possibilities for machine learning-based approaches for advancing robot capabilities", explained co-author and robotics collaborator Veronica Santos, associate professor of mechanical and aerospace engineering at UCLA. Areas such as explosive ordnance disposal or advanced surgery could greatly benefit from this technology.
The prototype mentioned by Santos was manufactured at the UW's Washington Nanofabrication Facility. It works like human fingers, with the sensors that measure the shear forces physically located where the nailbed would be. The primary material used for the prototype is the same rubber used for goggles, although with a little twist: a network of serpentine shaped microfluidic channels — roughly half the width of a human hair — is integrated into the fabric. These are filled with electrically conductive liquid metal and, unlike metal wires, bend instead of cracking, providing much greater flexibility and resilience. When the 'skin' makes contact with a surface, the channels compress under pressure, thus reducing their conductivity. These variations are then translated as vibrations or shear force data.   
The research team has proved that the new skin can allow a robot to open a door, play a jazz instrument, handle a smartphone, shake hands or lift a parcel, among other abilities. In fact, it can register tiny vibrations at a speed of 800 times per second, which surpasses human sensitivity. If we add AI machine-learning capabilities, it wouldn't be too farfetched to imagine a future with robotic virtuoso guitar players and skilled surgeons.
Source: Washington University
Featured topics
Read the most discussed articles