Energy Storage, the Second Revolution in Renewables

Renewable energies are increasingly gaining momentum, but so far they were being hampered by a lack of consistent supply, mainly those relying on solar and wind power. Initiatives such as ACCIONA's new Hybrid Storage Plant in Navarre (Spain) or Tesla's endeavor in Australia will bolster this new sustainable energy model.
A new wind is blowing for renewable energies, and they're being better exploited, too. We're talking about the inauguration held last month at Barasoain Experimental Wind Farm in Navarra, Spain; a strong commitment within a revolutionary global-framework on the part of ACCIONA towards optimization regarding preservation and transmission of electricity generated by wind or photovoltaic systems. This hybrid storage plant developed by ACCIONA works with wind turbines and is based on a twin-battery model: one performing at high intensity and the other one featuring sustained capacity over time.
It should be pointed out that, until now, electricity supply services worked around a complex system interaction   ̶ the so-called energy mix ̶   in which hydro generation alternated or complemented with nuclear and combined-cycle power plants, as well as renewable energy sources. Thus, when water levels in a reservoir were low or a nuclear power plant stopped functioning, combined-cycle plants were used and vice versa. The inability to conserve generated electricity also entailed juggling with peak demands, as is the case during heat or cold waves.
Apart from storing electricity to be used during significantly low-production periods –in the case of Navarre, due to lack of wind– this kind of technology allows filtering of electrical fluctuations and a steady and uniform supply, therefore ensuring continuous power.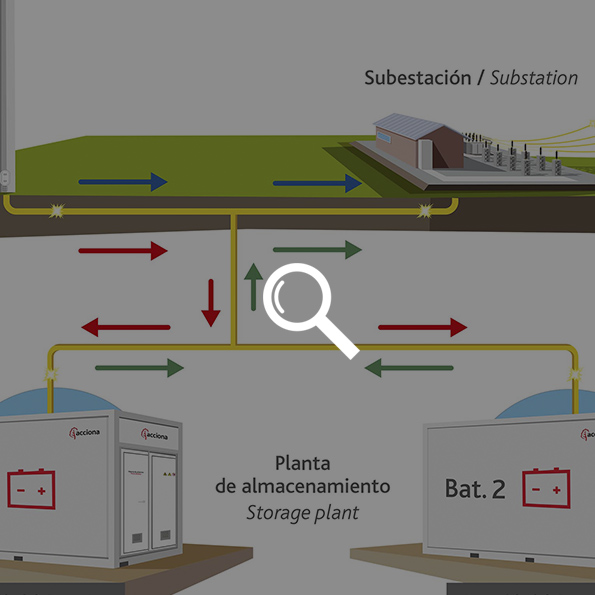 ACCIONA Energy wants to portray Barasoain as a roadmap and a role model regarding international implementation. After all, it's all about a corporate philosophy that has been permeating over the last decade, since a commercial solar photovoltaic power plant featuring in-built storage was presented back in 2010 as a pioneering initiative worldwide. Electric power storage will be an essential element in a future electric power system based mainly on Renewable Energies. Thanks to the addition of these systems to its existing business lines, ACCIONA Energy will be able to contribute to the development of either wind or solar power generation plants in locations otherwise impractical without this versatility.
The recent visit of Elon Musk to South Australia is nothing but a confirmation of this unstoppable trend. He traveled there in late September in order to begin the construction of the biggest Li-ion battery plant in the world. He will have just over three months to complete the challenge. If he doesn't, he will give Australian government their money back. And we're talking about up to 50 million dollars. Those were the terms proposed last March by the South-African visionary behind entrepreneurial successes such as PayPal or SpaceX in order to get rid of the repeated blackouts all across the continent.       
The Australian project, which will supply power to 30 000 households, will entail a remarkable boost for large-scale power storage technology, as well as an ineluctable reduction in production costs, already 65% lower so far this decade. This trend, which is also reflected on the cost of solar panels and wind turbines, is expected to lead an attractive energy tandem capable of turning renewable energies not only into an eco-friendly alternative, but also a functional and profitable one.   
Sources: Diario de Navarra, Xataka, Mashable
Featured topics
Read the most discussed articles