An Ancient Egyptian Pigment, the Next Energy-Saving Solution

The fluorescence of the Egyptian blue could help to cool buildings and reduce the use of air conditioning systems.
Sometimes you don't need to resort to sophisticated labs to find solutions for energy challenges or environmental issues. For instance, the ancient Romans recently taught us a lesson on how to improve the durability of concrete. The researchers found that, unlike concrete produced nowadays, which can last for up to a century, the Roman Civilization used a secret ingredient that allowed its concrete to resist water corrosion and harden over time. The key was a volcanic material composed, among other minerals, of tobermorite, one of the ingredients of modern cement, and phillipsite, a mineral that boosts de production of the former when in contact with saline water.
However, today we will be looking back to another ancient empire, the Egyptian. Specifically, to one of its most treasured pigments, the Egyptian blue, which was used to represent divinities and members of the high society. But what's the twist of this colorful pigment? Well, it's based on a calcium copper silicate and, in fact, it's the first synthetic pigment recorded in history. And now it has come back to life with an innovative application, cooling down infrastructures thanks to its fluorescent properties.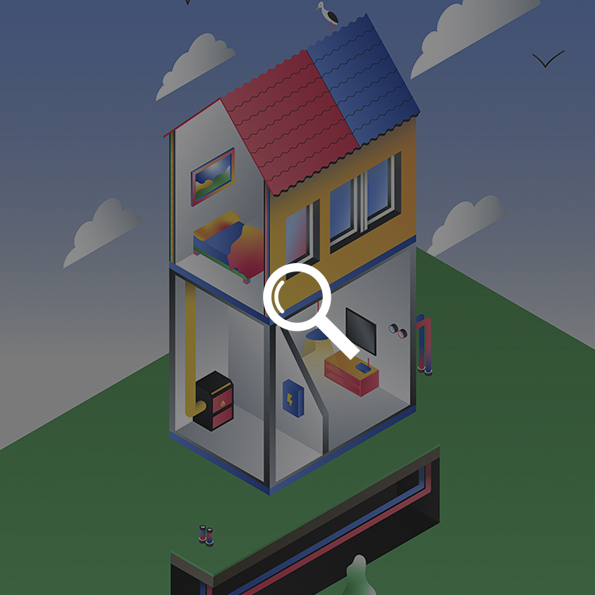 The Egyptian blue can absorb solar radiation and reflect it as infrared radiation. This fact had been known for some time, but new technological research proves that it's much more efficient than previously thought. According to the latest research from the scientists at the Lawrence Berkeley National Laboratory (USA), this pigment emits as infrared radiation almost 100% of the photos it absorbs. This means it provides a 70% energy efficiency, as the infrared photons carry less energy than those from the visible spectrum. The rest of the energy dissipates as heat.
If we want to avoid the warming of a house, painting it white is one of the most common options, although other colors are used for roofs. Thus, the Egyptian blue could be a way of combining the reflective and aesthetic properties.
The Egyptian blue, a photovoltaic ally       
The use of this type of pigments could contribute to saving energy by reducing the need for air conditioning. Also, by preventing buildings and vehicles from warming up, they can combat the so-called "urban heat islands", areas of the city where temperatures are higher than in the surroundings. However, they have further applications. The scientists have envisioned the use of windows dyed with Egyptian blue and surrounded by PV cells that could capture the reflected energy to produce electricit
Featured topics
Read the most discussed articles