Water treatment plants powered by renewable energies

A blend of renewable energies capable of getting the most out of each other to optimize consumption in water treatment plants. This is what Renewat project is about: water, energy, and innovation at the service of resource saving and the sustainability of the planet.
The improvement in sewage treatment technologies has been pivotal for many reasons: water reutilization prevents potential pollution issues, whilst being an invaluable source for irrigation in cultivation areas. Hence why WWTPs or waste water treatment plants play a key role in environmental protection projects.
But, what would happen if water treatment´s beneficial effects added up to those of renewable energies? That is the exact approach of Renewat, a pioneering project in Spain supported by ACCIONA Agua. Renewat integrates renewable sources such as wind or solar energy into the treatment process to achieve reduced consumption and CO₂ emissions into the atmosphere. An ambitious effort in which cooperation among the diverse energy-generating procedures is central, and is already paying off. Let´s dive into it. 
"Renewat, an alternative to make water treatment plants more sustainable"
Renewat, a combination of renewable energies to treat water
One of the drawbacks faced habitually during water treatment processes is the large financial cost and energy consumption. The aim of the Renewat project is to address this issue through the use of renewable energies. How?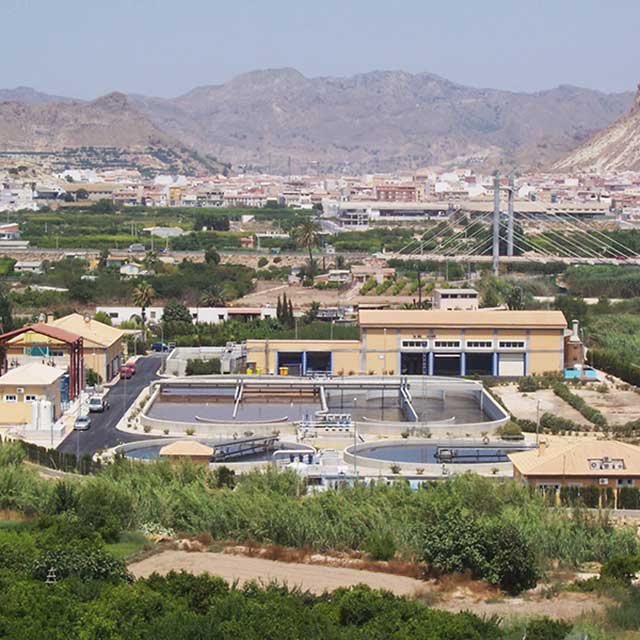 Firstly, integrating smaller scale photovoltaic panels and low-power wind turbines into the working procedures of those treatment plants capable of generating energy to be utilized straightaway, while allowing process isolation thanks to its storage. And secondly, developing an intelligent system that is able to manage renewable energy production and consumption requirements of a certain plant optimally throughout the diverse stages of the process.
With this cutting-edge water and energy management framework, the main purpose of Renewat is to reduce WWTP´s energy consumption, carbon footprint, and the cost per cubic metre of treated water to bring it closer to that of drinking water.
For the time being, the pilot project is located at Archena´s treatment plant in Murcia (Spain), but this technology will be suitable for virtually any sewage treatment plant. 
In figures
There are around 16,000 sewage treatment plants in the European Union, which consume 10,000 GWh/year from the power grid. In terms of CO₂ emissions, all these WWTPs discharge around 27,120,000 tons of CO₂ into the atmosphere.
However, these disheartening costs become easier to swallow with the integration of renewable energies into Renewat. Each treatment plant could be able to cleanly generate around 143,000 kWh/year, more or less the same amount of energy consumed by 40 Spanish households each year, while avoiding the emission of 110 tons of CO₂ annually. This 30% reduction in electricity consumption also entails a drop of up to 24% in the cost of water treatment (from 0.4 €/m³ to 0.3 €/m³).
With these results in mind, through the implementation of Renewat into the workings of treatment plants we can achieve a much more sustainable alternative.
Source: Energía12, Life- Renewat
Featured topics
Read the most discussed articles