Architecture and augmented reality become new partners

Construction is already experimenting with augmented reality to look through architectural models or to breathe life into projects still in the drawing.
Augmented reality has entered into the mainstream and become a world-famous piece of technology thanks to Pokemon Go. But that is just the tip of the iceberg, since the industry is relentlessly envisioning different ways to apply it into fields like medicine, education or architecture.
Since we are able to, thanks to AR, spot a cartoon character on our bed, why don't use this technology, for instance, to foresee how the pillars of a given building would look like whilst being under construction?
That's what the world of architecture has been wondering lately, by reason of the Hololens' arrival, the augmented reality glasses developed by Microsoft which the sector is already experimenting with to look through architectural models or to breathe life into projects still in the drawing.
The ability to create a mixed reality
But before we move on, what is Hololens about? They are glasses capable of creating a mixed reality environment, in other words, an inextricable combination of virtuality and reality. The users are able to see and interact with 3D projections superimposed over their surroundings. A computer-designed simulation capable of being layered to perfection into a real context.
"Augmented reality can modify the foundations of architectural design entirely"
These glasses feature, besides a powerful 24-core processor and a holographic processing unit, several cameras and sensors that allow us to, for instance, "take" with our own hands any virtual object and place it somewhere else in that given environment. A technology which, therefore, combines virtual reality, augmented reality, holographic background, Kinect and real life itself to compose this interactive world.
Just imagine the multiple practical applications. NASA and Microsoft, for instance, have already launched a project through which astronauts are able to train inside simulated scenarios on board the International Space Station with the help of the Hololens glasses. In the field of education, it seems that a new era of easier and, most certainly, more affordable logistics has begun.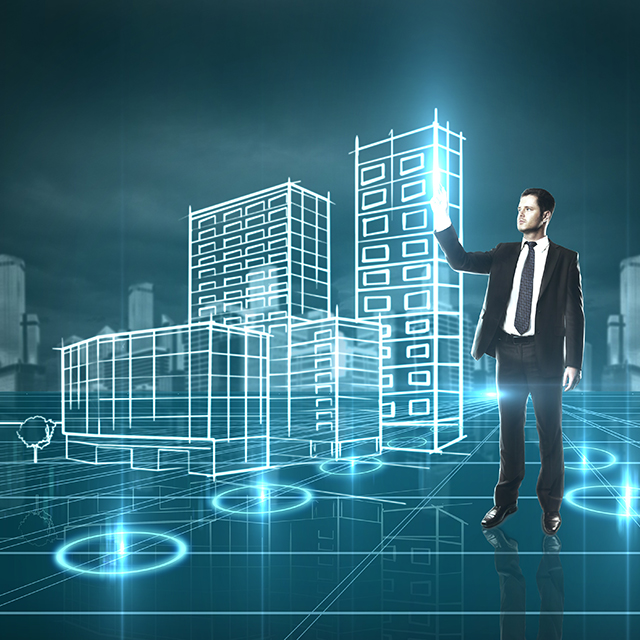 Architecture and Augmented Reality: A new way of building houses? 
Taking advantage of the possibilities offered by mixed reality and Hololens glasses' technology, architecture may change its way of working completely.
The architect, the customer or even the workers will be able to see what any given project will look like in real life to an appropriate scale, and even interact with it.
Walking inside a space, looking through the structure's details, checking if material calculations are accurate, or scrutinizing each and every aspect of a facility before being even constructed are just some of the advantages provided by Hololens glasses to engineering and architecture.
Many companies and professionals are already working with this technology in order to optimize building designing, such as the architect and professor at UCLA´s School of the Arts & Architecture Greg Lynn, who introduced during the Venice Biennale of Architecture a futuristic architectural complex conceived with the help of augmented reality glasses.
Besides, the Trimble company has already launched a version of the SketchUp app for Microsoft Hololens. It allows to visualize and manipulate virtual models over physical structures, therefore avoiding, thanks to digital superimposing of the models in real environments, the need to produce them materially.
Forecasts predict that soon the workers will be the ones wearing Hololens glasses in situ in order to look through the facilities and detect potential issues or failures, but for that to happen safety concerns will have to be taken into account as well.
Augmented reality is here to make half of the population chase virtual cartoon characters through the streets, but mostly and beyond that, to modify the foundations of architectural design entirely. 
Sources: Androidpit, Idealista, Engineering, Globalmedia
Featured topics
Read the most discussed articles