Guess where that house's electricity is generated

These solar tiles could be the answer to the issue of the outrageous visual impact caused by photovoltaic panels in heritage buildings.
From all the existing renewable energies, it seems that solar power is the one having the less difficulties in integrating seamlessly into everyday life, and becoming the alternative to the pervasive oil, coal or natural gas sources. Just a few days ago, we wrote about how the quantum leap in the development of treated glass capable of generating power from sunlight could improve energy management in buildings. In other words, a system which could make any ordinary glass-made object susceptible of producing its own energy. Go figure, from your car's windshield to your living room's table.

In fact, interdisciplinary collaboration is allowing many innovations to be implemented in fields that, beforehand, simply did not belong there. Such is the case with this project which, taking inspiration from the art of Kirigami, features adaptable and malleable solar panels.

But the field in which solar power feels really at home is in the construction industry. There are solar roads, buildings with solar windows and, now, solar tiles as well: new materials leaving the factory with the gene of innovation attached.
Solar panels resembling clay tiles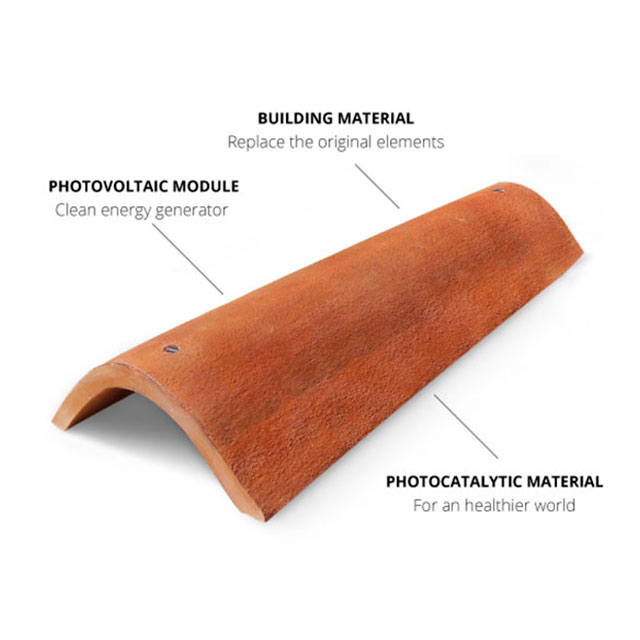 Those who thought that tradition, rooted in old-fashioned ways and procedures, was irreconcilable with cutting-edge technology may have to reconsider their beliefs. These solar clay tiles, manufactured by a start-up by the name of Dyaqua, are capable of merging the best of both worlds: impregnated with the halo of history and the passage of time characteristic of the distinctive Brunelleschi Dome, they conceal under its rustic appearance solar panels capable of generating energy. These ground-breaking sneaks place them, undeniably, into the architecture and technological development of the XXI century, though at first glance nobody could notice.

But, how does it work exactly? The tile is a piece of clay into which several monocrystalline silicon cells capable of obtaining solar power have been incorporated. Over them is added a layer made of a material which is recyclable, non-toxic and seemingly opaque, though transparent to sunlight. In other words, it disguises the cells without interfering with solar energy production. According to its technical specifications, 223 tiles (15 m²) would be necessary to generate 1kWp.

The other good news is that this model can be applied to diverse construction materials, so the company plans to implement it into wood, stone, slate and concrete.
In that case, we would be referring not only to roofs, but also solar walls or floors which could be entirely coated with these tiles or plates without altering the aesthetics of the buildings whatsoever, thus preserving the Historical and Cultural Heritage intact.
"These solar tiles could be the solution to make the historic buildings sustainable"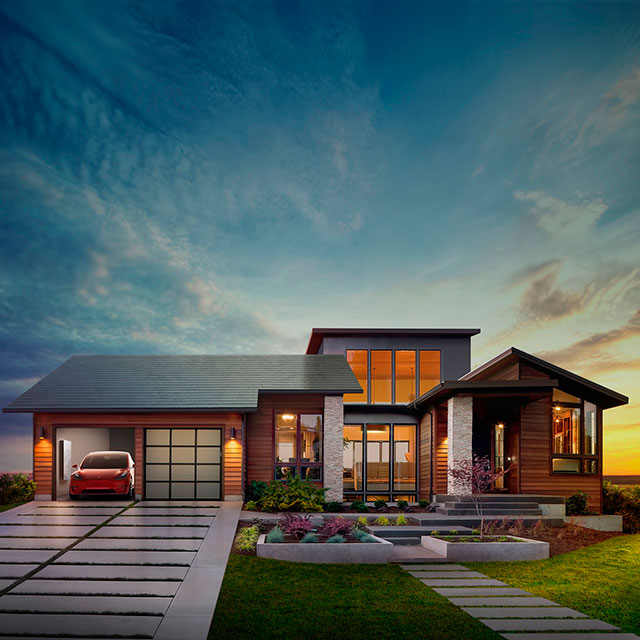 Tesla's solar tiles
When speaking of solar power breakthroughs, it's inevitable to mention Tesla, and in particular SolarCity, its subsidiary company. Just a few days ago, its founder Elon Musk introduced to the media a new product line which, in spite of having it before their eyes, they were incapable of spotting: tile-shaped solar panels attached to roofs.

They are photovoltaic cells integrated into small individual tiles whose appearance makes them almost impossible to distinguish from those in a conventional roof. The baseline model features four designs to please all tastes: brick-red, beige, slate or grey. In addition to this solar rooftop, a new energy storage unit called PowerWall was also introduced. It features two 14 kWh lithium-ion batteries capable of doubling the performance of the previous version and, according to the developers, providing four bedrooms and a complete set of appliances in a household with energy for a whole day.

Tesla's concept is very similar to Dyaqua's, though the Italian company seeks to promote viable architectural integration into emblematic city buildings.
The date of their market introduction and the price point remain unknown for now, but at this rate, your rooftop or even the Cathedral of Salamanca's could pretty soon be concealing a really sustainable and technological secret under their ordinary appearance.

Sources: Engadget, IS-ARQuitectura

Images: SolarCity, Dyaqua
Featured topics
Read the most discussed articles