An Engineering Masterclass by the Living Bridges in India

A German architect has analyzed the bridges, built by Indian peoples using tree roots, to develop innovative applications for urban architecture.
Ferdinand Ludwig teaches green technologies in landscape architecture at the Technical University of Munich (TUM). In 2007, driven by his interest in the integration of plants in architecture, he founded "baubotanik," a new field of research focused on this approach. And, if there is one striking example of this type of natural engineering, it is the bridges developed by the Khasi and Jaintia peoples in India by using the roots of rubber trees as their building material. The Ficus elastica, as its botanical designation, has aerial roots that the locals guide wind around bamboo sticks and palm stems. The outcome of this construction technique is a unique breed of self-building bridges that can span up to 50 meters and that the locals use to cross the numerous rivers and ravines in the North East Indian Meghalaya plateau.
Now Ludwig, jointly with Thomas Speck, a Botanics professor at the University of Fribourg, has analyzed these structures through thousands of photographs and personal interviews with some of the builders. The goal was to create 3D models of the living bridges to further the understanding of their design, while also keeping a record of orally transmitted building techniques.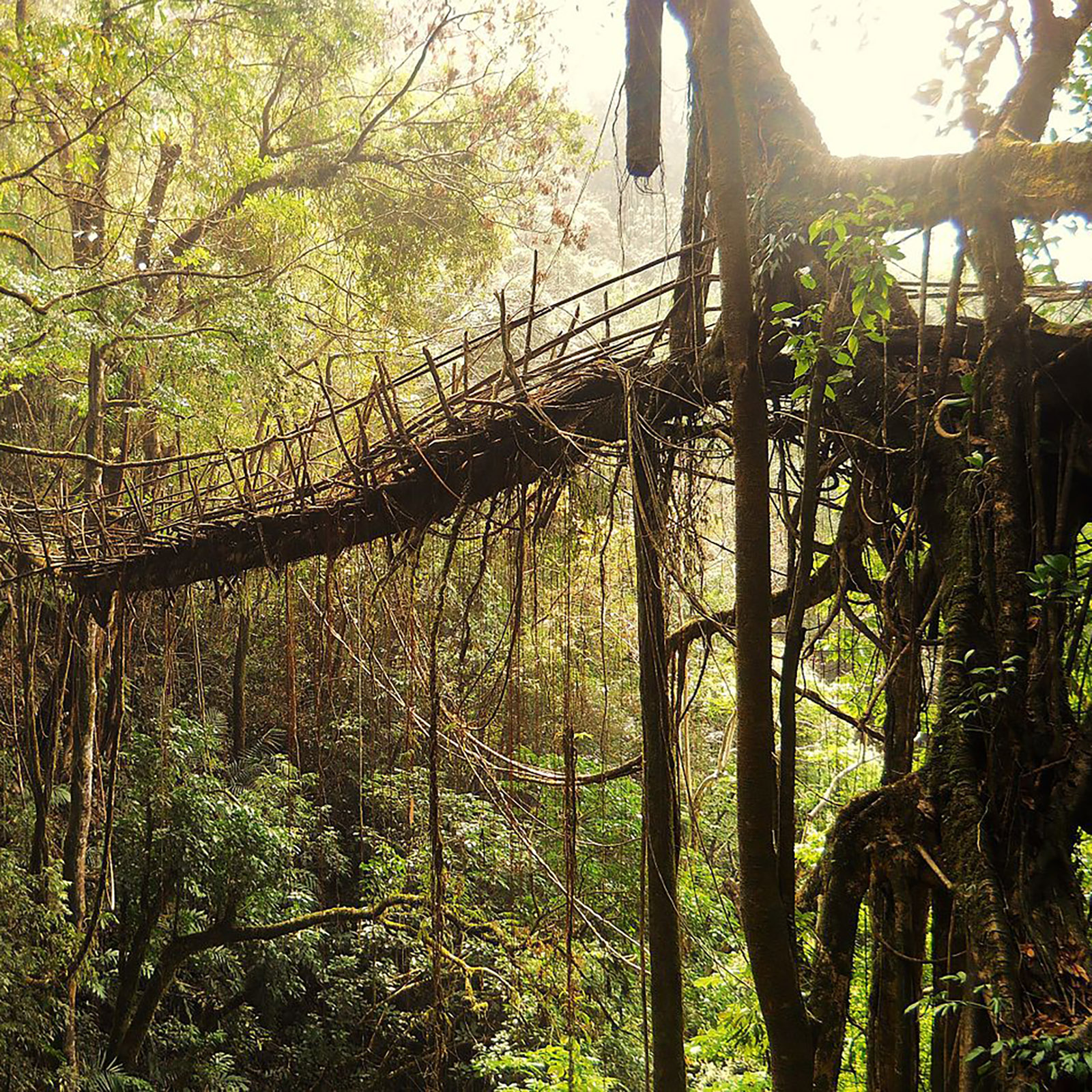 The researchers of this construction project established that the bridges are highly complex structures where phenomena such as inosculation, i.e., a process whereby two roots become physically joined under stress or when wounded, come into play. Moreover, the new roots twist around the old ones, which strengthens the structure over time. Because, unlike their concrete, stone or metal counterparts, root bridges are infrastructures that grow stronger as time goes by. A long time.
An intergenerational pact
Just as the innovative constructions built by the Khasi and Jaintia peoples can hold up for centuries, so they also require decades and even centuries to be completed. One of the solutions for this hurdle is the use of temporary structures that are then gradually covered by the new bridge until it reaches the required strength. In any event, this is a work carried out by successive generations that inherit a living legacy from their ancestors. Each family and village manage one or several specific bridges, which means that construction and maintenance are a collective effort.
 The promoters of Baubotanik believe that, in a global warming age, this is a sustainable and eco-friendly technique that allows leaving a better planet to the future generations. If modern cities were to embrace trees as a living building material, it could prove to be an efficient tool against the apparition of urban heat islands generated by concrete and asphalt.
If you want to learn more about Ludwig and his team's construction project, you can see some of their creations, such as the bridge built over willow trees, on this video.
Source: Science Daily
Featured topics
Read the most discussed articles