K-City, the Fake Town Where Driverless Cars Will Test 5G

Owing to its cutting edge 5G tech, K-City, in South Korea, has become one of the most advanced and ambitious test beds for autonomous cars in the world.
There are few fields in technology that can garner such interest as driverless cars. At least judging by the work of automobile manufacturers like Tesla or other new comers like Apple, Google, Intel or NVidia. Yes, driverless cars are truly a quantum leap in the development of our civilization and its transportation means, hitherto reliant on a driver (or a horseman back in the day). However, just like it happened with the space race, this new technology also brings with it a host of technological breakthroughs. To name a few: artificial intelligence, advanced collision avoidance systems, communication protocols among vehicles, the end of the one car-one owner age, the dispelling of the city smog… Having these vehicles road-ready with all the regulations approved will no doubt take a long while, but K-City, the new test bed in South Korea is a big step towards a seemingly inevitable future. 
In previous articles we mentioned initiatives such as M-City, the US city where Ford and other car manufacturers are already testing their prototypes, or the Trondheim fjord where pilotless boats, submarines and flying machines are being tested in an aquatic medium. K-City, however, has a distinguishing trait that puts it in an altogether different category. It will pioneer the implementation of 5G data transmission. Alright, that's great news, but besides blazing fast transmission speeds, why is this new 5G so important? And the key here is latency, i.e., the time interval between the stimulation and response, which will be below 1 millisecond. When watching YouTube videos this feature isn't life changing, but on a hectic motorway or in the middle of a complex surgery with a robotic arm it's a different matter altogether. 5G also allows to interconnect millions of devices in a square mile, another pillar of the Internet of things.
Announced in early 2017 and with a ten million dollar Budget, K-City was officially opened this month, with its motorway already operational. Once the project is completed, the total surface will cover 320,000 square meters, trebling the extension of M-City, which was the first of its kind. In addition to the 5G cell towers and the motorway section, the ambitious Korean city will host zebra crossings, toll gates, train track crossings and the same annoying road works as any conventional city. There will be up to 35 simulated conditions and the city will be testing up to level 4 vehicles, i.e., totally autonomous, although within constrained environments.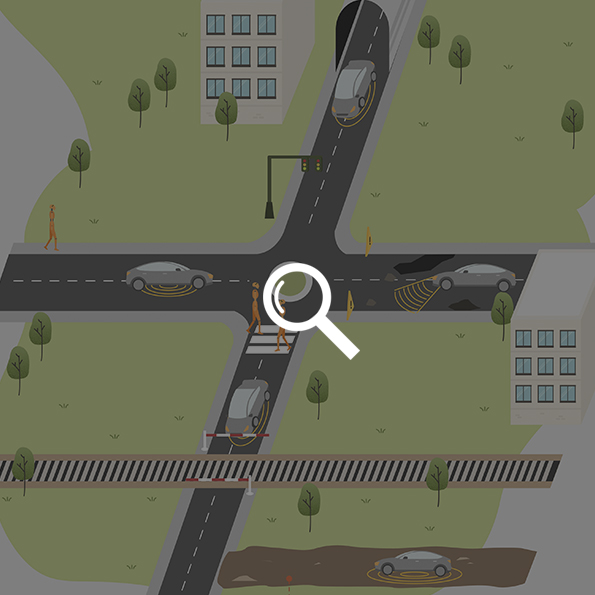 Level 0: Absolute control of the human driver (brakes, accelerator, etc)
Level 1: Most functions under driver control: reduced automation (speed or gear shift)
Level 2: Automation of the gears and acceleration thanks to the interpretation of the environment data. E.g. cruise control.
Level 3: Automation of critical safety functions (overtaking, turning, braking, etc.)
Level 4: Fully autonomous vehicle, though only in preset environments.
Level 5: Driver fully replaced in any area, including extreme driving.
Google and Uber strike back with their own cities for driverless cars
The trend seems to be gaining momentum as, although K-City was the largest one in the world when it was announced early this year, Alphabet (Google's matrix) has just announced an even larger one. Going under the name of Castle, it is the Californian test bed for Waymo, the autonomous cars division where Google has focused its efforts for the last years. With over 370,000 square meters, on last October it hosted the presentation of the latest advances in level 4 driving technologies.
On the other hand, Uber, after shaking up the taxi sector, just opened its own city for driverless cars earlier this year. It's been set up in Pennsylvania and, although it's roughly half the size of other projects like K-City or castle, it shows the commitment of the company to an age where driving licenses will just be an old piece of memorabilia hanging on the wall as a witness of a long bygone past.     
Source: The Guardian, Business Indsider, QZ
Featured topics
Read the most discussed articles