A New Generation of Smart Clothing for Dementia Patients

Microsensors and ever-shrinking computer components are opening a whole new world of possibilities for hospital patients and babies.
The transition from the PC-centric world to one of smartphones and tablets is now giving way to the Internet of Things and wearables, connected devices embedded in our clothes or used as accessories such as watches or bracelets used as fitness trackers. The current trend is a blurring of the line between the device and the user.
In such a hyperconnected world, however, and because of an increased life expectancy, there's a growing number of people who feel more disconnected and disorientated than ever. They are those suffering Alzheimer or senile dementia. Fortunately, the implementation of technologies such as GPS location, enabled by the miniaturization of the devices, is opening new possibilities. Xenoma, a Japanese company specialized in smart clothing, has presented its own take on the technology.
Xenoma chose the latest Consumer Electronics Show in Las Vegas to show a new line of nightwear with a twist—it can measure the user's vital signs and transmit the information wirelessly. The initial design of these pajamas aims to detect any health problems at an early stage within clinical environments. The outfit comprises a pair of trousers that detect movement and can inform about troubled sleep or any movements beyond a specified area. The latter is especially useful for dementia patients prone to wandering. The pajama's top carries several sensors that measure signs such as heart rate or body temperature. It also includes a plastic disc with a battery, a Bluetooth transmitter, an accelerometer and a gyroscope.
 One of the biggest advantages of this smart clothing is that it doesn't require direct contact with the skin through special gels or other solutions. The next step will be to broaden its use to healthcare at home, as the manufacturer believes that, once in production, these sets will sell for less than 100$.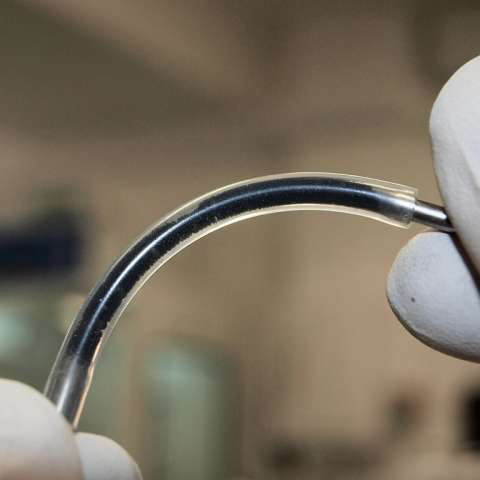 Graphene salad dressing
Xenoma's efforts, however, are far from being the only ones in the field of wearable health tech. Together with patients suffering from dementia, newborns are some of the frailest human beings. Researchers at the University of Sussex have thus developed a new kind of microsensors that can detect health problems such as sleep apnea and other ailments in young children.    
Firstly announced in the Nanoscale scientific journal, these microsensors are based on a compound made of graphene, oil, and water. When the microtubes holding the liquid face stress or stretching, the liquid reacts to such variations and can convey them.
As a curious anecdote, Dr. Matthew Large, the man behind this technology, was inspired by the salad dressing he had prepared for his daughter. When he noticed the small bubbles formed in the emulsion he came up with a conductive liquid. The graphene allows the bubbles in his sensor to remain stable, but when they spread out—because of the stress or stretching processes—conductivity is reduced proportionally. This, according to Dr. Large, makes it the most sensitive liquid-based sensor ever created. In a near-future, these sensors will be embedded in baby clothing to control their vital signs.
At first, the technology, which can be produced in a very cheap and simple way, was designed as a system to monitor newborns in developing countries in response to the contest launched by the Bill and Melinda Gates Foundation to create low-cost healthcare wearables. In their current state, however, the can also have fitness applications.
Featured topics
Read the most discussed articles