What is 5G technology and what will its impact be like in our everyday life?

5G technology, or the fifth generation of mobile connections, will play a key role in the Internet of Things and the development of smart cities, and it is closer than ever.
«…I should be already at home, but a last-minute e-mail made me lose track of time. It´s colder than yesterday, so while I wait for the elevator to arrive I turn the living room´s heating through my cell phone; I´m pretty sure that my wife will arrive home sooner than me and she will appreciate it…Just when I start my car´s engine I receive a call from her, she forgot her smartphone at the office again and she needs me to open the garage door through mine. She says "thank you, honey" as the noise of the gate elevating is heard in the background. As soon as I get home, I´m welcomed by a couple of gardener drones which help my wife to take care of her plants. They´re infallible when it comes to keep track of humidity and heat required by each one of them. Wow! It seems like they read my mind, as their daily report is just been delivered to my smartphone notifying me about the lack of fertilizer. I confirm the order placed automatically by the system, and I step inside the house…»

For this story about any given day after work to become something quotidian without any bandwidth collapse, we are still missing a development of a new wireless network capable of making it completely plausible: 5G technology, in other words, the fifth generation of mobile communications. Let´s dive into it.
5G facts are mind-boggling
5G is the fifth generation of mobile connectivity. A little over 3 years ago, LTE or what we know as 4G connectivity arrived to shake the smartphone world and boost data transmission speed, so we are not unfamiliar to this concept anymore. However, it seems that what we experienced at that time will pale in comparison to the vast array of possibilities carried under its belt by this new generation of wireless connectivity, which is being built over the foundations of the previous one.

The best way to illustrate this is by sheer data. The average 4G LTE transmission speed currently available for our smartphones in Spain, for instance, is somewhere around the 21 Mbps mark, allowing us uncut music streaming and prompt web surfing. Well then, 5G connection speed will manage to achieve over 10 Gbps, that is to say, between 100 and 1000 times faster, making it possible to download, for example, a HD movie in 10 seconds.

This remarkable speed is joined by a huge capability for data transmission, 10 Tbps, and a density of 1 million nodes per Km². Besides, it is expected that connection latency shrinks from 50 miliseconds to just 1 milisecond. In other words, 5G technology will allow a delay time reduction in communications, an increase in information transfer rate, a significant improvement in mobile coverage and will allow millions of devices to be connected simultaneously. This is, in fact, one of the key factors in foreseeing that 5G technology will go far beyond the realm of smartphones.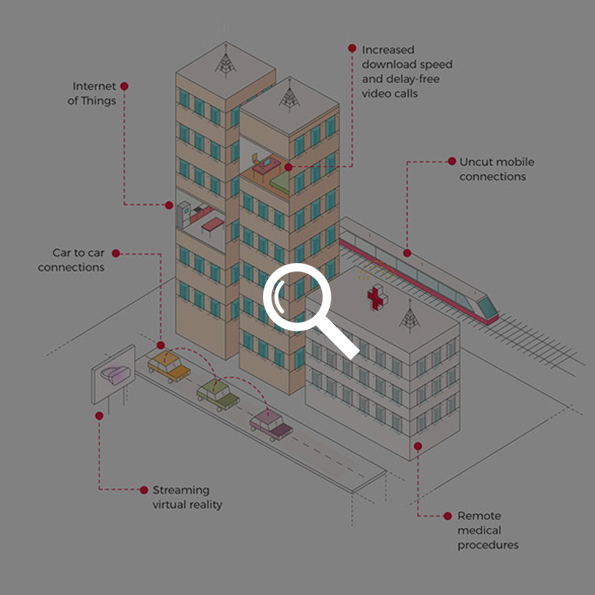 The main improvements brought by 5G
Increased range: It is expected that there will be 1 million nodes per km2 to reach more users, and network availability will be almost 100%.
More speed: 5g will achieve download speeds above 10Gbps, between 100 and 1,000 times faster than the previous generation, and we will be able to download a movie in 10 seconds.
Less energy-intensive: The 5G connection will mean a reduction of up to 90% in energy use for the network.
Low latency: With 5G the latency will go from 50ms to 1ms so that the information will be transmitted practically in real-time and the delay will be insignificant.
More users connected: With 5G, up to 100 times more users and devices can be connected than with 4G, without network saturation or failures.
Is 5G technology the missing piece in the puzzle of Smart Cities?
Thanks to these data regarding the improvement in transmission speed and connection quality, 5G network plunges us into the age of "everything connected" or the Internet of Things. It will allow us to create a true ecosystem capable of transcending the smartphone world, possibly becoming the missing piece of the puzzle to build true smart cities.
5G technology will be a key factor to allow millions of devices to be connected simultaneously in highly populated areas. In addition, it will enable communication between those devices, linking a smartphone to the garage door at home or the alarm clock to the coffee maker, so that we can wake up and find freshly brewed coffee. But there´s so much more to it. With 5G technology Car2Car connections could be increasingly efficient and safe, consequently allowing real time feed about traffic conditions or accidents. Same could happen with 360° virtual reality, which would likely take advantage of latency decrease and information transfer capability to generate true virtual environments.
Daily life applications of 5G:
Increased download and video call speed
Internet of things, IoT
Uninterrupted connections on the move
Car to car connection
Virtual reality in streaming
Telemedicine
"5G connection will be an important part to create the ecosystem of the future smart cities"
Speaking of latency, data-based voice calls or video calls, like Skype, will be the ones to benefit the most, since they won´t experience any delay time or failure. Same will apply to mobile connectivity: with 5G technology we will be able to stream a movie while travelling by train with the same quality as if we were watching it at home.
The medical field won´t stay out of the innovations promised by this new standard, as it is already being discussed how 5G networks could make wireless health care or even remote surgical procedures a reality.
How long will it take to 5G technology to arrive?
All researches available point to 2020 as the year when 5G technology will be consolidated, although the network will begin to be implemented in 2018 and the majority of operators, regulatory bodies and manufacturers are currently engaged in talks to arrange a standard, as it happened before the deploy of 4G technology. In fact, Qualcomm has already developed the first 5G modem, specifically created to support this type of network, thus paving the way for the new generation of smartphones. On its part, the European Union seeks complete 5G coverage by 2025. At these rapid rate of evolution, that date is already around the corner.
Sources: Gizmodo, Computerhoy, ABC, 5G-PPP
Featured topics
Read the most discussed articles